The ultimate purpose of buying good-fitting sports bras for fitness is to minimize breast movement and provide comfort. It is to while working out or practicing your favorite sport. Unlike a regular bra, a sports bra offers extra support to avoid any discomfort when running, working out at the gym, or exercising at home. However, unsuitable bras can create soreness, chafing, pain, or soft tissue damage since they don't fit well. Such discomfort can be a real obstacle when exercising or jogging.
To avoid such annoyance, we must buy women's sports bras based on our body size and the sort of activity we want to do. Sports bra fitting has no exact science because different brands have different size charts. The best suggestion is to buy one only after reading reviews, following the size chart, and taking accurate measurements.
Did you know that medical experts believe that wearing unfitting sports bras can lead to musculoskeletal pain? In worst cases, continuous discomfort while exercising due to wearing an ill-fitting bra can also lead to undesired consequences in the future.
Different types of Sports Bras and their Benefits
Sports bras come in numerous styles and designs, each catering to different levels of impact and support required during physical activities. Here are some different types of sports bras and their
Compression Sports Bra
They support to compress the breasts against the chest wall to minimize movement. They work well for low-impact activities like yoga, walking, or light stretching.
Ideal For Smaller-breasted individuals, low-impact activities.
Encapsulation Sports Bra
They have separate cups for each breast, providing individual support and shaping. They are suitable for medium-impact activities and offer a more natural look.
Ideal For Activities like cycling, strength training, and moderate cardio.
High-Impact Sports Bras for fitness
Designed to minimize bounce and provide maximum support, high-impact bras often feature wider straps, adjustable closures, and reinforced construction.
Ideal For Running, jumping, and intense cardio workouts.
Racerback Sports Bra
The straps converge between the shoulder blades, allowing for a wide range of arm movement and minimizing strap slippage.
Ideal For Activities requiring extensive arm movement, like swimming, weightlifting, or CrossFit.
Strappy Back Sports Bra
These bras often have stylish and intricate back designs, offering a blend of support and aesthetics. They're suitable for medium-impact activities.
Ideal For Gym workouts, dance classes, and moderate cardio.
Front Closure Sports Bra
With a front clasp or zipper, these bras are easy to put on and take off. They provide good support and are convenient for those with limited shoulder mobility.
Ideal For Yoga, Pilates, everyday wear for those seeking comfort and ease.
Wireless Sports Bra
These bras lack underwire, offering comfort and flexibility while providing adequate support for lower-impact activities.
Ideal For Yoga, Pilates, casual wear.
Padded Sports Bra
Padded bras provide extra coverage, shaping, and modesty. They can enhance comfort during workouts.
Ideal For Any activity where extra coverage is desired, such as yoga, strength training, and more.
Adjustable Strap Sports Bra for fitness
These bras allow you to customize the fit by adjusting the strap length. They're versatile and can accommodate different body shapes.
Ideal For Various activities depending on the impact level.
Plus-Size Sports Bra
Designed for individuals with larger busts, these bras offer extended sizes and extra support to ensure comfort during physical activities.
Ideal For Any activity suitable for the specific impact level of the bra.
When choosing a sports bra, reflect the type of activity you'll be engaging in, your breast size, and the level of support required. It's important to find a sports bra that turns well and provides the necessary support to prevent discomfort and potential damage to breast tissue during exercise.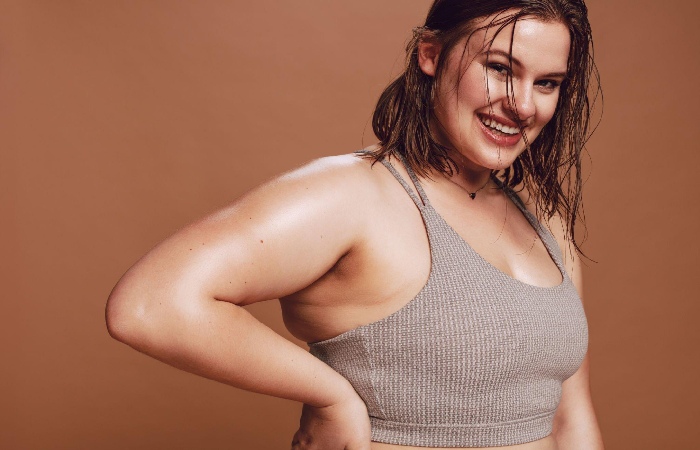 How To Find The Right Sports Bra?
To find brassieres that provide the best support, you first need to consider what type of activity you usually do. In most activewear sections of online stores, there are three types available – Compression, Encapsulated, and Combination.
Compression sports bras are the perfect choice for those who require less support.
Encapsulated sports bras are ideal for individuals who need more support or enjoy high-intensity workouts.
Combination sports bras provide the best support for most exercises along with decent compression.
Tips For Buying Sports Bras
Many brands categorise their products by impact level, making buying sportswear easier. Here are some points that will help you buy comfortable sports bras for fitness:
Ensure Your Sports Bra Fits Correctly
Sports bras usually come in small, medium, and large sizes, but if you are looking for the best support, consider buying according to the cup size and back width. Measure carefully to ensure you are purchasing a product that fits comfortably. If unsure, opt for a sports bra made from a stretchy fabric offering a little more bandwidth.
Go For Comfortable And Adjustable Straps
Pullover bras are not always the best choice as they can lose elasticity after a few uses. We recommend buying sports bras with adjustable straps that can be easily altered according to your comfort. Not only can they be made to measure, but they can also be loosened and tightened depending upon the support you need when working out.
Choose A Moisture-Wicking Fabric
The fabric and material a sports bra is made from is arguably one of the most important aspects. Those buying a sports bra to wear during sports or fitness activities will need a sports bra that can easily absorb sweat, keeping them cool throughout every run, squat, and lunge.
Get ready to enjoy your workouts like never before, knowing that the next time you buy a sports bra, you'll have all the tips to help you choose the perfect one.