Lingerie Brands: It is indeed true to say that lingerie is a crucial clothing essential. As it is the first layer of clothing women wear, it is vital to choose lingerie that is comfortable and soft on the skin. As of now, lingerie fashion is on rise as several brands manufacture them in different styles, sizes, and models.
Top Lingerie Brands That Ensure Style and Comfort
Here are a few brands that are known for their stylish models, which are also comfortable at the same time. You can wear them throughout the day and night without feeling even a bit of discomfort.
1. Cuup
This company's founders are Kearnon O'Molony and Abby Morgan, and it has headquarters in the city of New York. They produce bras and panties in different styles, but all of them are likely to give more coverage, keeping you comfortable.
You can choose from their variety of bras, which includes different styles like The Triangle, The Demi, The Balconette, The Scoop, and The Plunge. In addition to that, their panties are accessible in several styles as well, such as thongs, high waist bottoms, bikinis, taps, and more.
2. Avidlove
If you are in search of stylish and comfortable lingerie that can be bought at an affordable price, then you have reached the right place. Avidlove is one of the best online sellers and is also the customer's favorite brand because they produce quality lingerie at a reasonable price. Cotton Printed Suit Set
Their lingerie set models include babydoll sets, bodysuits, body stockings, bra sets, bridal lingerie, and robes. Besides that, they have panties and bikini bottoms in the low waist, medium waist, and high waist models. However, one thing for sure is that all models and sizes are stylish and comfortable.
3. Skims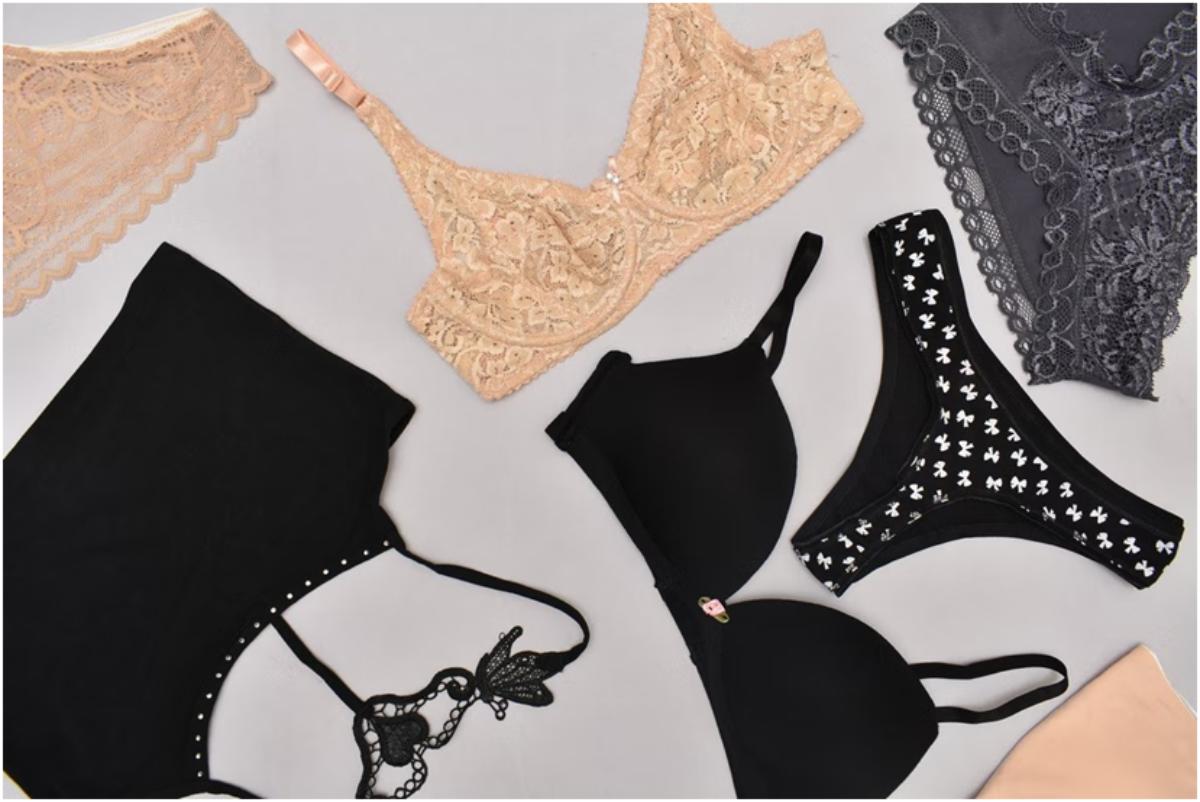 This brand has set new standards by giving lingeries suitable for everybody. They have designed shapewear that improves your body curves to panties that can stretch double the size. The best part about this brand is that it manufactures all types of bras: bralettes, underwire bras, t-shirt bras, bandeaus, plunge bras, shapewear bras, and hosiery bras.
As for bottoms, you can acquire them in a variety of styles, such as thongs, boxers, boy shorts, cheeky underwear, briefs, and hosiery. In addition to that, you can also find different cotton bra panty sets from this brand that feel soft on your skin. Women's Cotton Straight Kurta
4. Hanky Panky
Here is another brand that has been the beloved choice of several buyers since a few years. Hanky Panky brand is highly prominent for its lace thong lingerie. They would not attach to your skin uncomfortably but give you a comfy feel.
It does not matter whether you prefer a skinny or a plus-size model, this brand provides lingerie in a wide variety of sizes, including XXS, XS, S, M, L, XL, 1X, 2X, and 3X. Plus, they make lingerie with different materials such as lace, cotton, and mesh. So, you can pick the set which feels comfortable for your skin type.
Also Read:- Attractioner
5. Lace & Tulle
Lace & Tulle is the one-stop for all women's clothing needs. This brand produces the best and most attractive outfits for women of any size, color, and age. For example, Lace & Tulle brand has lingerie sets in XS, S, M, L, XL, XXL, and XXXL and from 32A to 46DD. They specialize in producing lingerie sets that have translucent and long robes, which can be simply used as nightwear and sleepwear.
6. Journelle
When it comes to lingerie, one can never forget about Journelle, which is home to luxurious lingerie sets. From simple bras, fancy underwear, luxury designer lingerie to loungewear, Journelle has everything you will need. However, Journelle is known for its high-end and cheeky style lingerie sets.
They have undergarments ideal for daily use, such as balconette bras, plunge bras, demi bras, bikini bottoms, briefs, and more. In addition to that, under the Journelle Collection label, you can find a wide variety of elegant bras, sleepwear, and thongs as well.
7. Love Stories
Lastly, here is another best lingerie brand that is popular for stylish and comfortable lingerie sets. They have silk and nice lace bralettes, comfortable briefs, and thongs that will feel good on your skin.
One best aspect about the Love Stories brand that attracts several buyers is their incredible mix-and-match lingerie which are accessible in printed silk and lace. They are easy to wear and are prepared from premium quality materials.
Conclusion
As there are many brands to choose from, it can be difficult to pick the one that can meet your requirements. Due to that, we have listed the top brands that are relatively popular for producing stylish and comfortable lingerie. Hence, you can easily acquire lingerie from any of the listed brands.
In addition to that, you can read reviews and choose the best brands that manufacture high-quality bras and panties. It would ensure that you have all the requirements met with the most crucial innerwear for a woman in today's world.
Also Read: Look Great in these 5 Sunglasses Trends