New Dog Owners: Whether you're bringing an adult pup home or a puppy, introducing this new family member to your life can be overwhelming. Not only is a to-do list necessary to keep you organized, but it's important to make sure you have everything your new dog needs so that they don't go wanting
What are the different checklists for New Dog Owners?
It's always exciting to welcome a new canine into your life. Bringing home a new dog, introducing them to your family and home, and ensuring their health may be a stressful experience, especially if this is your first pet.
As you and your new dog settle in, you'll build a bond via everyday activities like neighbourhood walks, behind-the-ear rubs, and couch sharing. And you may assist your pet acclimatise to their new surroundings even before they arrive. Your new puppy will soon feel at ease with a little patience and preparation.
A new dog can be a huge investment, both with time and money, which is why this handy checklist is here to help keep you on track and make sure you're not buying more than you need.
A Collar with Identification Tag
Introduce a new collar to your pup as soon as possible; these are a must for walking if you're attaching a lead to a collar, but also for your dog's safety and identification. Attaching a tag to the collar with contact information helps to protect your pet if they wander off or if you lose them on a walk.
Collars can also come with reflective designs, meaning a safer walk during darker nights.
A Suitable Lead
The right lead is going to make a difference to your walk, both for you and your dog. If you have a puppy needing training, it's even more important to get the right lead. Consider your options, needs, and the type ofxz place you live. You may want a combination of short lead and extendable lead for more control in smaller places, and you may need an adjustable training lead for growing puppies.
A Body Halter
If you'd like more control for your dog when on walks, then a body halter is a must, as well as a lead and collar. These are especially helpful for handling larger breeds. If you're buying a body halter for a growing puppy, be sure to get an adjustable one that can grow with them.
New Toys
Make sure your dog has something new and exciting to play with when they get home for the first time. For puppies, this is a must for mental stimulation so that they don't get tempted to destroy everything in sight. For a dog of any age, toys are important to keep them occupied and can also help them to relax in their new home.
Pet Food
Stocking up on pet food in time for your new dog's arrival is a must. You should do some research ahead of time for your new dog's requirements, especially if you have a puppy, as they will need a puppy-suitable diet. If you're looking for quality and affordable pet food, this is the best website for you.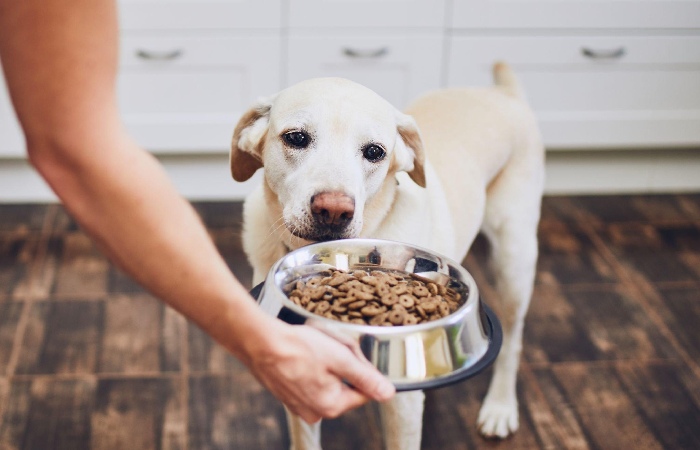 Pet Health Insurance
This is the necessary part, especially for young puppies who require more frequent vet visits. Dog's health care can be very costly, but your pet insurance costs cover for most procedures and treatments. Some companies have good deals, such as Bivvy.
Cleaning Essentials
Life with a pup can get messy, so you'll want to be prepared straight away. Think about:
Cleaning wipes for their paws
A good pet vacuum
Pet-friendly products for wood or carpet
Dog shampoo
Training mats for puppies
A Comfortable Bed
Introduce your new dog to where they will be sleeping as soon as possible so that they can get into a good routine. If you're going to be strict about having your dog on the furniture, then providing a bed on the floor straight away is important for rules and training.
A comfortable bed should always take into account the size of your dog, and be in a room that isn't too cold.