Mom Breakfast: Nothing says "I love you" quite like a delicious stack of pancakes or a perfectly plated eggs benedict served in bed. Whether she's your mom or your wife, you know one thing is for sure — she deserves an over-the-top breakfast delivered straight to her pillow without even having to ask. But a standout brunch in bed requires a little bit of preparation and planning. Besides mastering the most delicious breakfast recipes, you'll want to consider the presentation, the gifts and the cleanup that makes it all memorable.
Make the Serveware the Gift — Nothing brings an edible presentation to life quite like the serveware that makes the table (or the tray). Give mom the gift of stunning new plates, bowls, silverware or accessories that enhance your presentation and make her smile. In addition to serving staples, consider baking a delicious breakfast quiche, casserole or frittata in gift-worthy bakeware that she will reuse again and again. Here are some more serving items that make amazing Mother's Day gifts for the mama who loves to cook, bake or host:

A chic serving tray with handles so you can carry it into the bedroom without spilling.
A pretty handmade ceramic plate to perfectly showcase your French toast or pancakes.
A set of cute ramekins filled with her favorite sauces, fruits and dips on the side.
A new set of champagne glasses for her Mother's Day mimosa(s).
Stunning new silverware she can use to set the table at her next get-together.
A set of vintage juice glasses that honors her aesthetic.
Nice linen napkins or high-quality but stylish paper cocktail or dinner napkins.

Go for Seasonal Recipes — Mother's Day is the second Sunday of May each year, which makes it high time for some of the best seasonal fruits, veggies and dishes. Break out your favorite Martha Stewart cookbooks and look for inspiring springtime breakfast dishes that incorporate the flavors of the season. This time of year is a good one to whip up raspberry scones, arugula omelets, rhubarb pancakes, ramp butters and mushroom quiches (especially when they're hand-foraged from the woods in the backyard). Anything that uses herbs straight from the garden is a plus! The most important thing you can do when selecting your recipes, though, is to pick ones that honor the foods and flavors mom loves.
Garnish with Fresh Flowers or Herbs — In addition to seasonal recipes, May is a great time to impress mom with fresh-picked flowers and herbs. You don't have to call in the expensive pro florist either. Grab — or pick from the backyard — a handful of colorful tulips, hydrangeas, lilies, garden roses, Queen Anne's lace, baby's breath, etc. and arrange them in your favorite vase. You could also use the vase as a gift and select one from her favorite store or local crafter. If your tray is already packed to the brim and you're worried that a hefty bouquet might weigh it down, go for a mini arrangement in a Mason jar or dress the tray with loose blooms around the edges.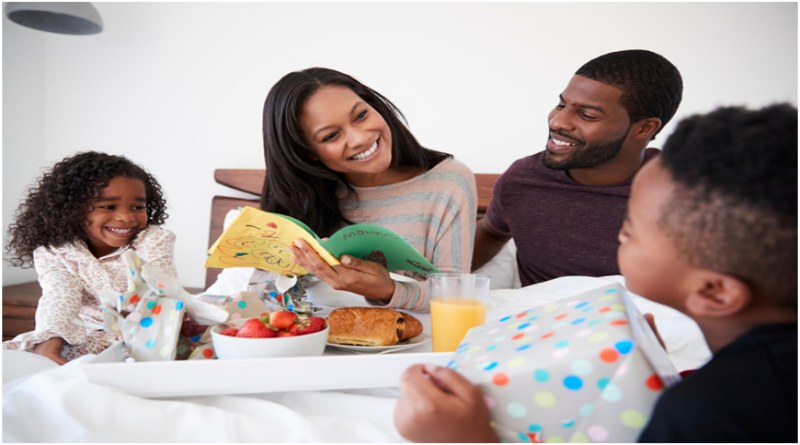 Clean As You Go — The best gift you can give a busy parent is an indulgent meal minus the mess. As tempting as it may be to rush your way through the cooking and keep the cleaning for later, remember that a messy kitchen will only stress out mom when she gets out of bed. Rinse the dishes, load the dishwasher and put away any ingredients used. To top it off, wipe down the counters and make the kitchen look even better than you found it!
Don't Be Afraid to Go for Takeout —If clean, easy and delicious are all non-negotiables, and she's got a favorite brunch spot in town, don't hesitate to order from her favorite restaurant instead of cooking. A fresh-baked croissant or donut from a special local bakery will always delight. The key to making takeout extra-special is to dispose of Styrofoam takeout containers and plate it attractively with your fanciest plates, bowls and silverware.
Don't Forget the Hot Coffee or Tea —Breakfast isn't quite complete without coffee or tea served exactly how she likes it. Pay special attention to the type of coffee and the preparation, ensuring that you serve it how she would make it (or buy it) herself. If you want to do something extra-special, head out first thing in the morning and get her cup of Joe from her favorite local coffee shop. It helps if you serve her coffee in a to-go mug or in a cup with a lid to avoid spills.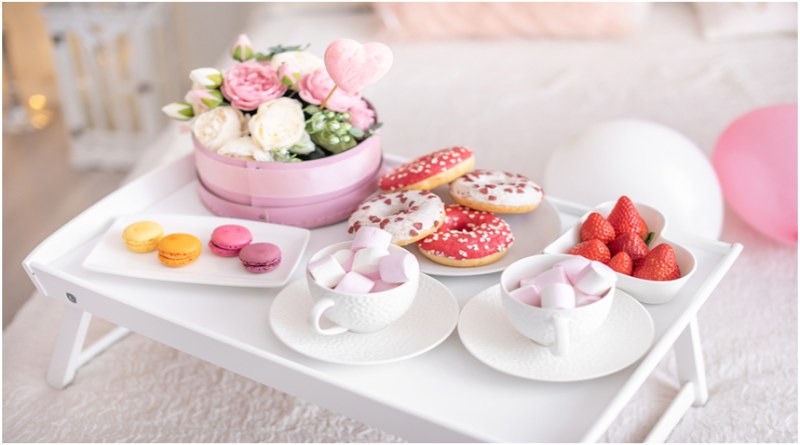 Make It Colorful —Without a plan, your breakfast spread may come out delicious but look lackluster. Luckily, spring is the season for soft, romantic colors, so you'll have plenty of opportunity to pepper in some excitement. Bring in color through fresh fruits — blueberries, strawberries and oranges will add to the rainbow aesthetic — or flowers. You can also use fresh fruit jams, veggie spreads, cookies, sprinkles or fruity syrups to add a pop of personality to the plate.
Present Her with Presents —If breakfast in bed isn't the only present, make sure you wrap your gifts in pretty paper and present them along with your perfectly plated tray. Garnish your gifts with sprigs of dried herbs to honor the season or go big with elegant bows and ribbons. If your gift is small enough, place it directly on the tray with breakfast and make it a part of the show-stopping presentation.
If you're looking for an unbeatable way to nail Mother's Day this year and show mom how much you adore her, you can't go wrong with a well-planned breakfast in bed. With her favorite recipes, a pretty presentation and a few sweet extras, you're guaranteed to make mama feel extra-special for the whole day before she even gets out of bed!
Also Read: Daily Bike Riding To Reduce Stress in 2022