Your soon-to-be fiance will most likely wear their engagement ring every day–an incentive to make sure you find or design the ring of their dreams. If you haven't already, a good idea is enlisting one of your partner's close friends or family members to help with the search. They will provide valuable insight on what to consider during the decision-making process. The following tips will help you get started.
7 Things to Consider When Buying an Engagement Ring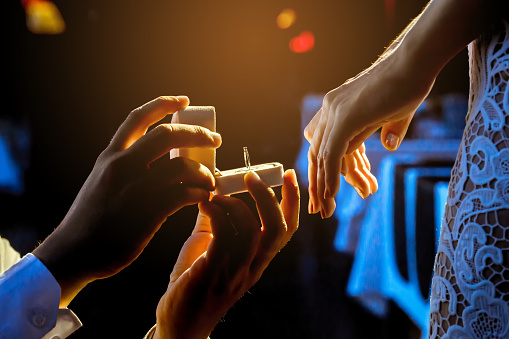 1. Your Partner's Jewelry Style
Everyone's jewelry style is different. Start paying attention to what your partner wears most often, as doing so might provide an idea of what kind of engagement ring they might like. You can also sneak a peek in their jewelry box to browse their ring collection for more specific inspiration. Do they stick to one metal color? Do they mix and match? And, Do they keep it simple or are they more eccentric? All of these components can help determine what type of engagement ring your partner might like.
2. How They Use Their Hands
Although many engagement rings are durable for daily wear, some designs are better suited for someone who works with their hands often. If your partner has a job or hobby that requires the use of their hands more often than not, (i.e. doctor, nurse, gardening, etc.) a ring with a lower setting is best. Low settings reduce the risk of the center stone getting snagged or poking holes. Additionally, they are more durable should the ring get knocked into something. Another popular option is a bezel setting–this setting eliminates the need for prongs and instead encompasses the center stone in a ring of metal thus creating a more secure setting for your ring.
3. Type of Gemstone
In addition to diamonds, there are many popular gemstone options for engagement rings like moissanite, emeralds, rubies, and sapphires. A unique and sentimental option is choosing your partner's birthstone or a gem in their favorite color as an alternative to the traditional diamond center stone. Other options for including gemstones into your ring are color side stones for a three-stone ring or a gemstone halo.
4. The Four C's
The Four C's of a diamond refer to its color, carat weight, clarity, and cut. It is important to keep these characteristics in mind when considering which diamond to choose for your center stone. Some of these features might matter to your partner more than others. If they want a sparkler that gleams in the sunlight, for example, prioritize finding the right cut. For instance, round brilliant diamonds are typically the brightest cut because of their numerous light-reflecting facets.
5. Finger Size
The last thing you want is for the engagement ring to easily slide off your partner's finger or be too snug for comfort. Ideally, the ring should be able to glider over the knuckle without difficulty but not slide so easily that it twists once it gets to the base of the finger. There shouldn't be gaps between the band and finger, either. To remove the ring, it should only take a gentle tug. You can ask your partner for their ring size or take one of their rings to a jeweler for measuring. The second method ensures your soon-to-be fiance will be surprised when you pop the question.
6. Metal Preferences
When choosing a band, consider whether your partner is sensitive to certain metals and metal alloys. If so, gravitate away from plated bands that contain even trace amounts of nickel or lead. Your loved one's complexion should also guide your decisions, as some metal colors stand out more on different skin tones. Yellow metals, such as 14k and 18k gold, pop on warm skin tones, while white gold and platinum flatter cooler skin tones. If you're unsure which metal to go with, try to see which metal color your partner's other jewelry is.
7. Certifications
Regardless of the type of ring you choose, make sure the gemstone has been certified by a reputable gemological lab, such as the Gemological Institute of America (GIA) or the International Gemological Institute (IGI). This way, you can feel confident in your purchase. The certificate contains valuable information about your new stone, including the carat weight, clarity, and color as well as the measurements and other specifications.
When you know your loved one's jewelry preferences and ring size, finding the perfect engagement ring won't be a daunting process. You can take confidence in knowing they will wear your token of love with pride and comfort and that the symbol of your commitment to one another will last a lifetime.