A Guide To Flaunting Your Fashion
Kaftans – the mere mention of this unique garment instantly brings images of flowy fabrics, vibrant colors, and unbridled comfort to mind. An ageless fashion staple from Middle Eastern culture, the kaftan has evolved into a versatile and stylish piece that's made a place in wardrobes worldwide. Whether going to a beach party, a brunch, or just lounging at home, the kaftan is your ticket to looking effortlessly chic. Today, let's delve deeper into the kaleidoscopic world of kaftans and explore the secrets to styling them just right.
Printed Kaftans: Making a Statement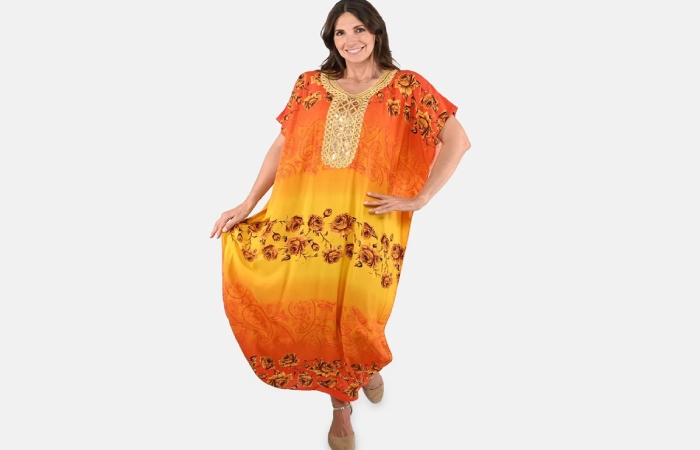 Printed kaftans are an absolute riot of colors and patterns and a sure-shot way to make a style statement. Bold, vibrant, and eye-catching, they're the perfect garment to uplift your spirits and style quotient.
The key to styling printed kaftans lies in achieving the perfect balance. Pair your printed kaftan with solid-colored bottoms, like jeans or a maxi skirt. This allows your kaftan's vivid colors and patterns to stand out truly. For a more cinched, defined look, cinch your waist with a belt, ensuring your ensemble has a polished feel.
While accessories can elevate any outfit, choose them wisely regarding printed kaftans. Don't shy away from going bold – chunky tribal jewelry, oversized sunglasses, or an avant-garde hat can elevate your ensemble. However, remember that your printed kaftan is already a statement piece, so ensure your accessories are kept from the show.
Midi Kaftans: A Balanced Style Statement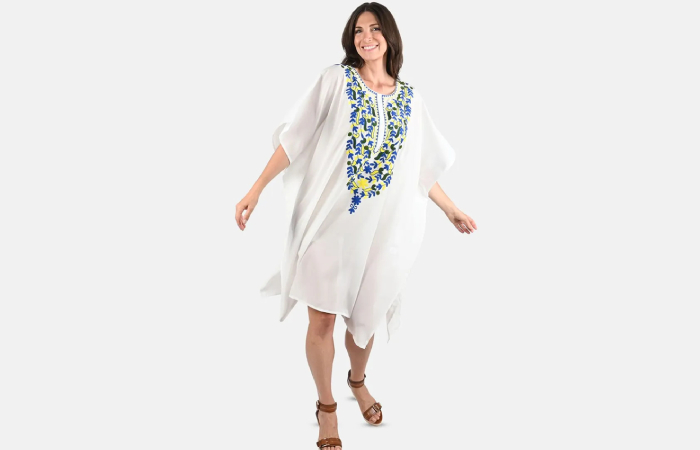 Neither too long nor too short, midi kaftans offer the best of both worlds. They're an excellent way to enjoy a kaftan's comfort and chic elegance without committing to a full-length style.
One of the best ways to style a midi kaftan is to pair it with slim-fit jeans or leggings. This combination keeps the look casual yet sophisticated. Add a pair of block heels for a touch of elegance and to lengthen your silhouette.
Layering is another trick to make your midi kaftan pop. Throw on a long vest or a sleeveless blazer for an instantly elevated look. Finish off your ensemble with subtle accessories – think a minimalistic clutch and delicate jewelry. The result? An effortlessly chic outfit that speaks volumes about your fashion sense.
Kaftan Tops: A Lesson in Versatility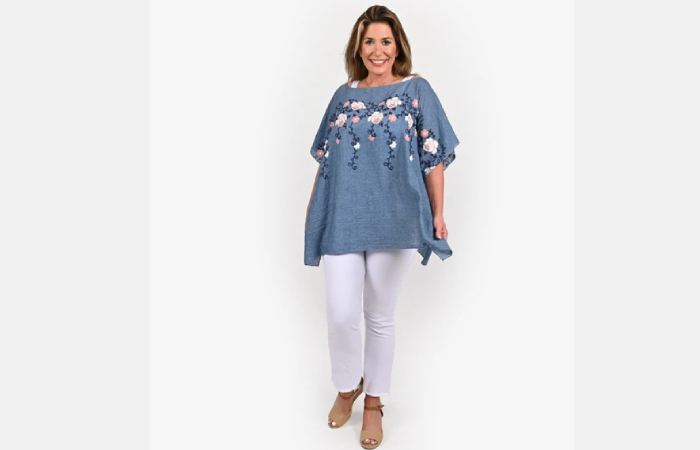 Kaftan tops have a unique charm that combines the loose, airy feel of a traditional kaftan with the versatility of a shelter. They're an excellent pick for various occasions, and you can style them in countless ways.
Pair your kaftan top with fitted jeans or shorts for a casual look. If you're headed to the beach, you can easily slip a kaftan top over your bikini for a trendy cover-up. Complete the look with strappy sandals, a sun hat, and a beach bag for an ensemble that's as stylish as practical.
When evening comes, switch to high-waist pants and heeled boots for a more polished look. Add statement jewelry pieces to bring a touch of glamor to your outfit. Remember, with kaftan tops, your imagination is the only limit!
Knee-Length Kaftans: A Blend of Chic and Comfort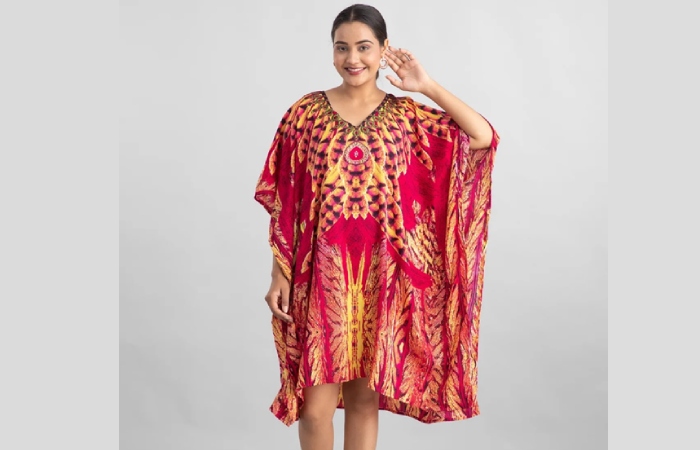 Knee-length kaftans strikes an excellent balance between style and comfort. They're perfect for those laid-back days when you want to look fashionable without compromising comfort.
Consider pairing your knee-length kaftan with leggings or skinny jeans for an everyday casual outfit. Add a pair of ballet flats to keep your look comfortable and stylish. When it's time to dress up, switch to knee-high boots, add a statement belt to cinch your waist, and don chunky jewelry for an elevated look.
Knee-length kaftans also make for great beachwear. Complement them with sandals and a sun hat for a beach day look that's both stylish and practical.
Kaftan Dresses: The Epitome of Effortless Elegance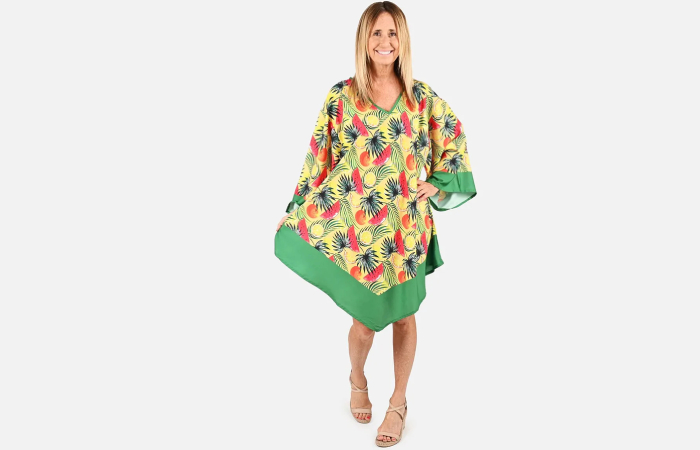 Kaftan dresses are a perfect blend of style, elegance, and comfort. They offer ample room to move freely yet look elegant and put-together, making them ideal for various occasions.
Pair your kaftan dress with strappy heels for an elegant evening look or flats for a relaxed day out. A sun hat and a tote bag can complement your kaftan dress perfectly for a day of summer fun. For an added touch of sophistication, accessorize with minimal jewelry.
Adding a belt can give your Kaftan dress a more defined silhouette, transforming it into a flattering outfit that showcases your figure.
Long Kaftans: Embodying Timeless Elegance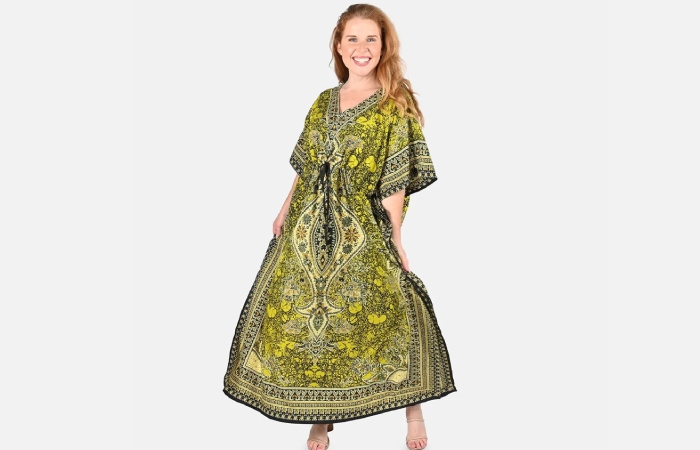 Long kaftans are the embodiment of timeless elegance. Their length gives them a certain royal flair, making them perfect for formal occasions or simply for lounging at home in style. To style a long kaftan, pair it with high-heeled sandals or wedges to enhance your figure. Add a fancy belt to cinch your waist and define your outfit. Remember to accessorize – statement jewelry pieces can make your kaftan outfit pop.
Short Kaftans: Playful and Trendy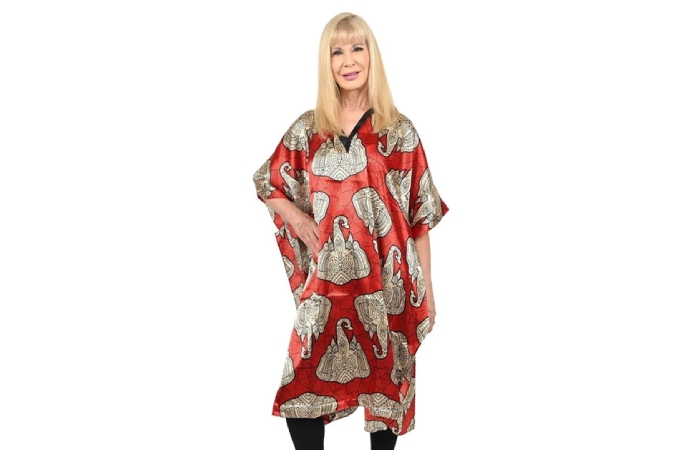 Short kaftans are a more playful, trendy twist to traditional kaftans. They make a fun, fashion-forward statement while offering the same comfort and ease that all kaftans provide.
Styling short kaftans is all about flaunting those legs. Team your short kaftan with cute shorts for a stylish beach outfit. Alternatively, wear it as a standalone dress for an easy, breezy look. You can also wear it with jeans or leggings for a more covered yet chic ensemble.
Regarding footwear, gladiator sandals, wedges, or espadrilles make excellent pairings with short kaftans. Opt for Bohemian-style pieces like beaded necklaces, hoop earrings, or multi-layered bracelets for accessories. Remember to finish your outfit with a chic beach bag or a trendy crossbody bag.
Kaftan Tunics: Easy Elegance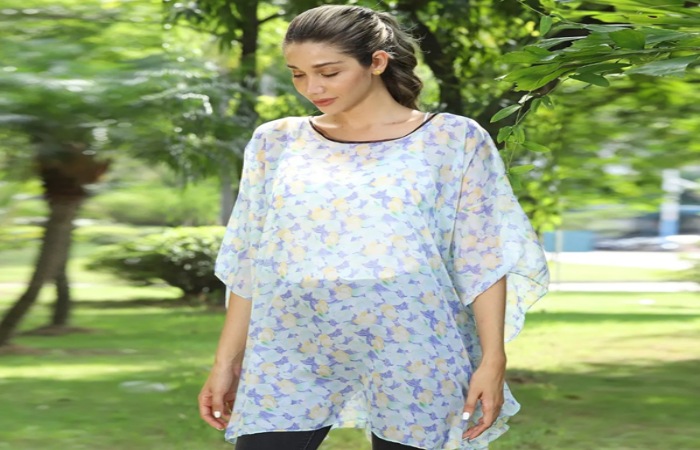 Kaftan tunics are perfect for those who seek a modern, sophisticated interpretation of the traditional kaftan. With a more defined structure than a typical kaftan but retaining the distinctive wide sleeves, kaftan tunics bring a touch of elegance to your everyday wear.
You can pair your kaftan tunic with a variety of bottoms. Wear it with slim-fit jeans or capri pants for a relaxed look. Team up for a more formal look with tailored pants or a pencil skirt. Kaftan tunics also make excellent beach cover-ups when worn over a swimsuit.
In terms of footwear, pumps or ballet flats can enhance the elegance of your kaftan tunic. If you want a casual look, pair it with sneakers or sandals. Accessorizing with statement jewelry like a bold cuff bracelet or a long pendant necklace can add a touch of glamor to your outfit.
Remember, no matter how you style your kaftan; confidence is the key to pulling off any look. Embrace the unique, vibrant patterns and comfortable fit that kaftans offer, and make them your own. Whether heading to the beach, a party, or just lounging at home, kaftans are an excellent addition to your wardrobe that promise style and comfort in equal measure. Happy styling!