If you're looking for sustainable wedding guest dresses before the next wedding you're attending; you're certainly not alone. Sustainability is becoming more common and accessible, and this interest is certainly a positive one for the planet. But is there any way you can find a sustainable dress that looks cute?
Actually, you can stand out at weddings even with sustainably found or made wedding guest dresses. If you're looking for help with finding sustainable wedding guest dresses, you're certainly in the right place. So her are few tips and break down a few things you might find helpful during your dress search.
Ways to Make your Wedding more Sustainable

Infographic provided by Grown Brilliance
Visit Stores With a Sustainable Mission
There are many brick-and-mortar stores, as well as online retailers, that make clothes with sustainability and eco-friendliness in mind. If you're looking for a brand new dress that's considered to be sustainable, this is a great place to go. These outfits, including wedding guest dresses you might find at some of these locations, are frequently made in modern and stylish cuts. Therefore, if you want to look trendy or up-to-date in your wedding guest dress, you'll be able to do so by looking at many of these stores, like Reformation, for example.
However, these kinds of stores also come with higher levels of expense, and wedding guest dresses are certainly no exception to this rule. Why is this the case? This is largely the circumstance because sustainable companies pride themselves in ethically sourcing their materials in a way that is less harmful to the planet.
They are also intended to be worn for much more extended periods of time. Depending on your budget, as well as your intent to wear this kind of wedding guest dress repeatedly, this may or may not work well for your plans.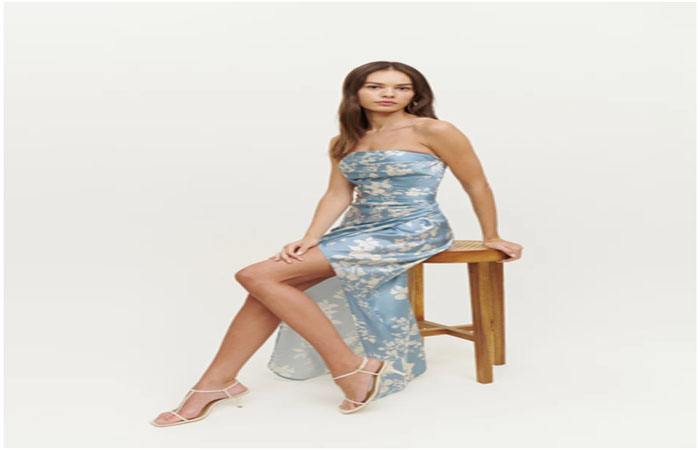 Go Thrifting
If you have a smaller budget and still want to add something new to your closet, you may also want to consider heading to your local thrift store. This is a great and sustainable option for many people for several reasons, which is why I suggest going thrifting before you commit yourself to buying something brand new.
Thrifting is sustainable because it directly prevents other people's old clothing from being sent to a landfill. This allows you to pursue options that are new to you without asking the market to make something brand new for you. In addition to being eco-friendly, you can also save a lot of money by going to a thrift store. I find this is especially ideal if you don't want to spend too much on an item you don't plan on wearing too many times. However, many thrifted items do also wind up lasting several years anyway.
Additionally, if you would like to shy away from wearing something that looks like you got it from the mall, going thrifting is a great way to find something that's a little more unique. Instead of looking like everyone else at the wedding who went shopping for items already on shelves and widely dispersed, you might be able to find items that are no longer considered "trendy" but are still very fashionable and unusual or whimsical.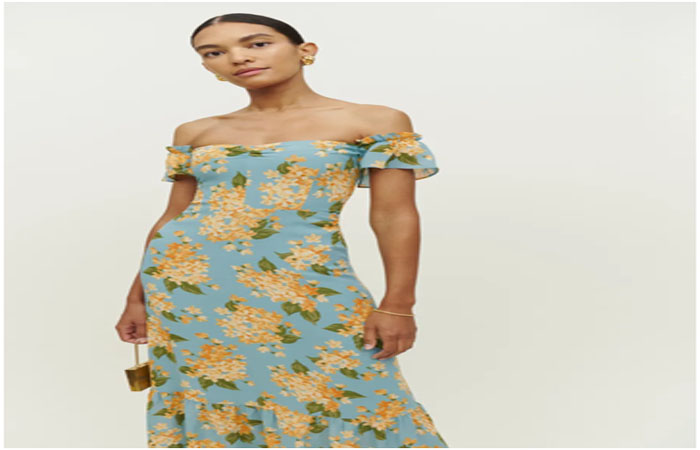 Wear Something in Your Closet Already
If you don't want to buy anything, you can also try to wear something you already own. There are few things that are as sustainable as using the items already in your closet. While this may not be the most exciting way to get ready for the next wedding, the odds are high that you already like the items in your wardrobe.
Some fun ways to make these clothes look different from anything you've worn previously are to add a few new accessories, wear some shoes that are a little less traditional, or add a couple of layers over or under your gown. You can make a dress look completely different by layering a shirt underneath the torso, giving the sleeves a new silhouette. Additionally, you might try wearing a different skirt over the other skirt, especially if the different skirt is longer and fuller. This also creates a new shape and allows you to make something that looks new.
Try Borrowing Dresses From Friends
If you don't want to buy anything at all and you're severely uninterested in the formal clothes in your wardrobe, you can always ask your other friends if they can borrow some of their clothes. This allows you to save money, prevents anything new from being made, and gives you access to another person's style.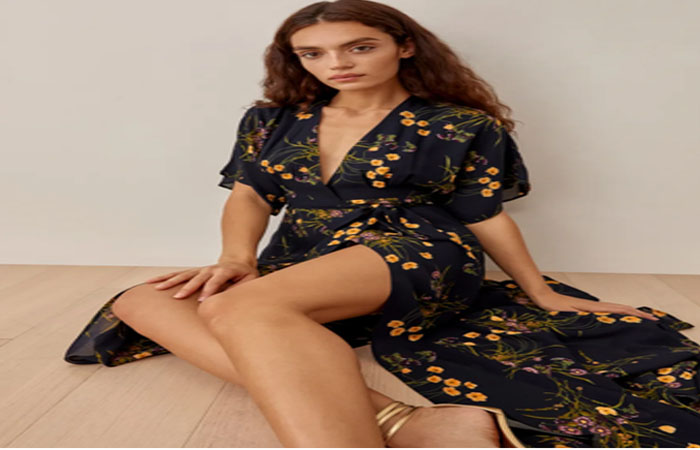 Find Other Sustainable Pieces
Your wedding guest dress doesn't have to be the only sustainable piece you wear to your next wedding, especially if you don't want that to be the case. You can borrow or go thrifting for jewelry, shoes, and bags as well. There are also stores that offer these sorts of pieces while touting a sustainable mission.
Trying to be sustainable in your shopping habits, including when shopping for wedding guest dresses, is a great way to vote with your dollars. Choosing sustainability is also a fantastic way to ensure you stand out as a wedding guest, allowing you to gather all the compliments on and off the dance floor.