A fitted body con dress is one of those wardrobe classics that you'll find yourself reaching for time and time again. It's a simple, basic fit that's perfectly comfortable and ideal for dressing up or down. Because of its simplicity, it makes it the ideal base for all your styling potential, meaning it's a really enjoyable item that you can freshen up and make work for any occasion you might have coming up. Whether you're looking to refresh a dress you already have waiting in your wardrobe, or you're in the market for a new piece to add into your evening wear collection, knowing how to wear your body dress to make it fit and work for you will save you countless minutes when it comes to actually styling your item. Here's a few steps to set you up perfectly:
Choosing the right body con dress
Shopping for something new? Use these tips to find the perfect fitted dress for you.
Measure, measure, measure
Measuring yourself is one of the most useful steps you'll take on your shopping journey. Knowing your own dimensions will guide you towards pieces that will work with your body and shape – mostly meaning that your body con dress will fit you like an absolute dream, which is what you need from a fitted piece. Measure yourself with a tape, right it down, and keep it with you every time you shop – you'll thank yourself.
Pay attention to materials
Next, you're going to want to have a think about the right material for your body con dress. Look for something that's going to fit and flatter you in the most comfortable way possible – there is risk here to wind up with something that's not the most amazing to wear. Think stretch quality fabrics that will move with your body and you won't go wrong.
Get your length right
Lastly, length. You can choose whatever length you like for your body con dress, maxi fitted pieces are amazing for formal affairs, a midi can take you from day to night and a cropped mini length is great for fun nights out on the town, cocktail hour or more casual occasions, too.
Body con dress ideas
Ready to shop for your fitted dress? Try out one of these styles…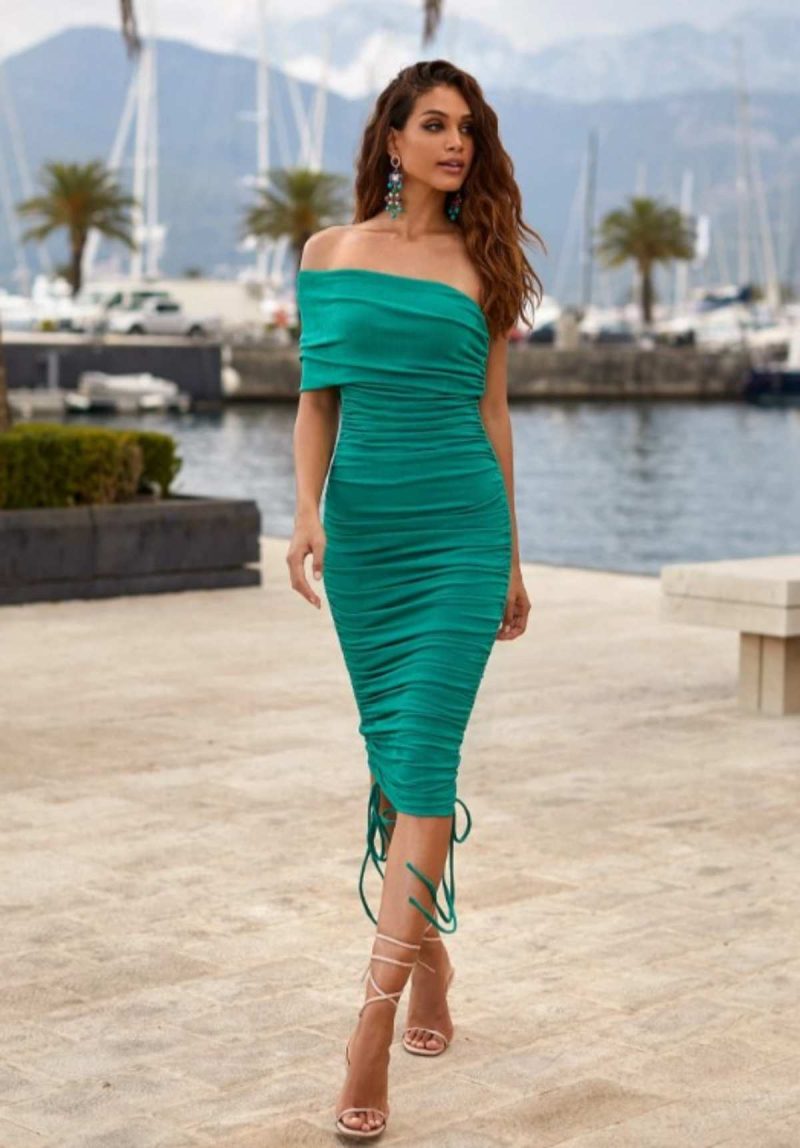 Image: Alamour The Label
Cut out details
A cut out detail on a body con dress looks incredible, and it's the perfect choice if you're really looking to make a statement at your next event. Choose a subtle tone like pastel blue to highlight the dynamic carvings in your body con piece.
Also Read: Inspiring African Fashion Designers You Should Know About
Sequined gown
If you really want to stun, sequins are certainly the way to go. Choose a gathered bodice detail body con with a sweetheart neckline and high leg slit for a breathtakingly beautiful formal gown that's perfect for black tie dress codes.
Corset details
Corsetry looks so strikingly beautiful and it's the perfect way to highlight the form fitting silhouette of your body con dress. Look for exposed corset boning to contrast with the floaty skirt of your maxi length gown for a piece that hugs your curves and highlights your figure like nothing else.