Our summer style revolves around pieces that are easy to wear, versatile and will keep us looking and feeling cool whatever our plans entail. From breezy, lightweight fabrics to flowing cuts and tropical prints that have us dreaming of long days sipping fresh coconuts under the warmth of the golden sun, each piece in our summertime wardrobe has been carefully selected to transport us to paradise, wherever we may be.
One of our favourite trends that ticks all the boxes is the coordinating two piece set. Equally as stylish as it is comfortable, the two piece set gives a polished look with minimal effort. Regardless of whether you're heading out for cocktails after dark or starting the day with a stroll along the shore, there's a gorgeous iteration of this trend to suit almost every occasion.
After Dark
With the party season upon us, there's no better time to add a touch of glamour to your outfit. As our calendars fill up with endless after dark events, sunset dinners and celebrations, an outfit that makes us feel incredible and gives maximum style without too much effort is an absolute must. A coordinating top and mini skirt paired with your go to heels or sandals and a leather clutch is the ideal pick for your next after dark soiree. Experiment with all over sparkles or feminine backless silhouettes for a party ready look.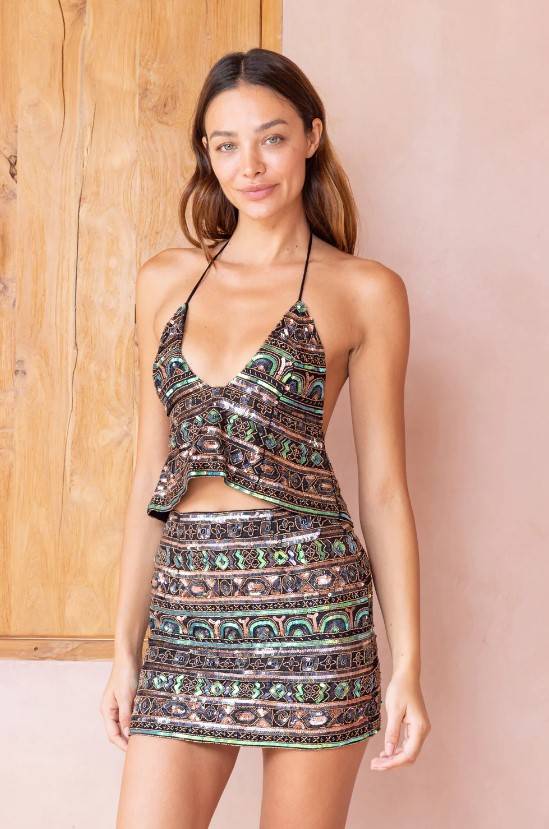 Wear a sequinned top and skirt set together for a statement look or pair separately for an effortlessly cool outfit.
Topical Vacation Fit
When packing for a tropical vacation, versatile pieces that are easy to wear are a must, and a two piece crop and skirt set is exactly that. Look for a soft, jersey fabric featuring an all over print that can be worn together or paired with monochrome basics for a more lowkey look. Throw on a comfortable set for a relaxed lunch by the coast, exploring local markets or sipping from a fresh coconut whilst sitting poolside.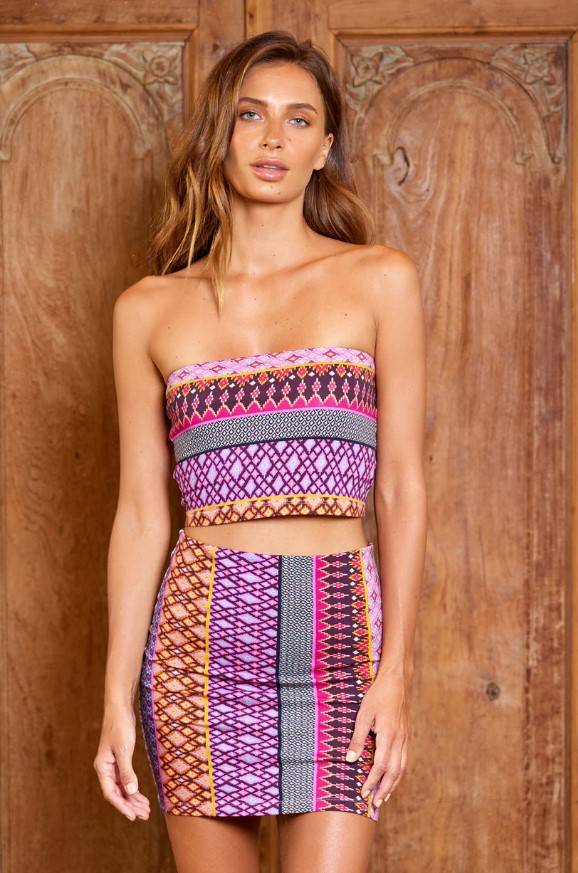 Image: Tigerlily
Soft, jersey fabric is easy to wear in warm weather, paired with a bodycon finish for a chic summer look.
Long Lunch
One of our favourite ways to spend a summer's afternoon is enjoying good food, ice cold cocktails and great company at a laid back long lunch. A two piece crop and flowing skirt or pants are the ultimate long lunch uniform this season for a put together, yet effortless finish. Choose an all over printed set and accessorise with delicate gold jewels and leather sandals.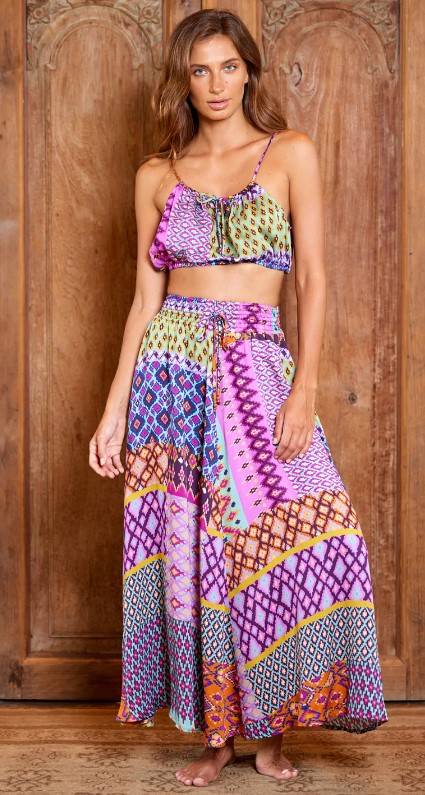 Image: Tigerlily
Showing your midriff helps to break up all over prints and accentuate your figure.
Sunset Drinks
Whether you're lazing back on a picnic blanket watching the sun sink over the ocean or enjoying a cocktail at a beachside bar, a two piece set can be dressed up or down to perfectly suit the occasion. A chic top and slinky skirt can be slipped on over your bikini after a day in the sun or dressed up with sparkling gold and pearl accessories and a woven clutch for a look that will seamlessly take you from sunset to late into the night.
Ever versatile and always on trend, the two piece set can be worn together and dressed up or down, or paired separately with your favourite basics for an endless array of stunning looks that will see you looking and feeling gorgeous throughout the summer season.
Also Read: 4 Simple Products That Can Help To Improve Your Life