Sunglasses have become a fashion staple that is worn by virtually everyone. From sunshine beach days to city street strolls, they add poise and flair to any outfit while also protecting your eyes from the sun's harsh UV rays. Traditionally, sunglasses have been used as a way to protect your eyes from glare and enhance visibility in bright conditions. However, modern technology has enabled sunglasses manufacturers to develop lenses with special coatings and tinted glasses that provide extra comfort and protection against ultraviolet radiation. Whether you are looking for a stylish accessory or increased eye safety, this article provides guidance on how to choose sunglasses with the best UV protection for summer.
Summer is the perfect time to break out your sunglasses and enjoy the warm weather. But not all sunglasses are created equal. When you're shopping for new shades, it's important to keep UV protection in mind. Look for lenses that block 100% of both UVA and UVB rays. And don't forget about style! With so many great options on the market especially at American Optical, there's no reason to sacrifice fashion for function. Keep these tips in mind and you'll be sure to find the perfect pair of summer sunnies.
The Begging of Choosing the Right Sunglasses
Looking for a pair of really good quality sunglasses it's not as easy as you might think at first.
First, check the label to make sure the lenses offer 100% UV protection. Second, consider the size and shape of the glasses – wraparound styles will offer more coverage than smaller ones. And finally, along with checking the label for a high-quality pair of lenses, it is important to examine them in person as well.
Along with the quality of materials that are used for making a pair of sunglasses its style is also important. Look for pilot sunglasses that never go out of style or find something modern.
Follow these tips and you'll be sure to find the perfect pair of shades for summer!
Essential Parts of Making a Right Decision
When choosing the perfect pair of sunglasses for warm summer days, it's important to consider the size, shape, style, and materials of the glasses. Make sure they fit your face properly, don't be afraid to try a few different sizes until you find the one that fits most comfortably on your face. Summer is all about living life to the fullest and soaking up as much sun as possible. To do so in the safest way, it's important you invest in sunglasses that not only look good but also provide the best UV protection.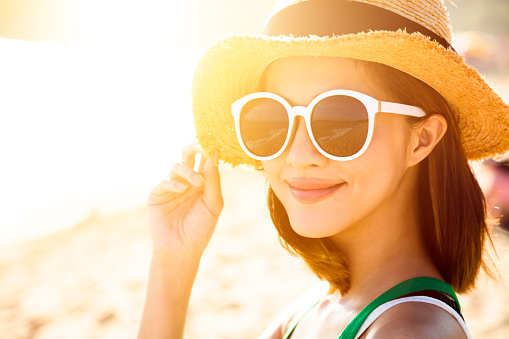 High-Quality Frame and Lenses
When choosing a pair of sunglasses, be sure to pay extra attention to the quality of both the lenses and frame – they should be durable enough to stay with you for more than just one season. High-quality lenses usually feature scratch-resistant finishes, and high-quality frames are made from lightweight materials like aluminum or titanium which can endure long days of outdoor use. Make sure that lenses are not too heavily tinted or distorted, as these can impact your vision and reduce protection against ultraviolet radiation.
Also, look for signs of scratches or smudges on the surface of the lenses which could also compromise UV protection. Quality lenses should be free from such imperfections to ensure maximum protection from the sun's rays. Remember that darker lenses don't necessarily mean better protection – it's more important to look for a pair that blocks out both UVA and UVB rays.
UV Protection
Understanding UV protection ratings is an important step in choosing the right sunglasses for maximum eye protection. These ratings measure the amount of ultraviolet (UV) radiation that passes through a pair of sunglasses, with higher ratings offering more protection from UVA and UVB rays. When shopping for sunglasses, look for labels that indicate 100% UV protection or a UV400 rating to ensure maximum coverage from the sun's harmful rays.
The Style of Sunglasses
Finally, don't forget how essential your own style is – pick out sunglasses that match your wardrobe and personal look so you can stay safe from UVA/UVB rays without compromising on fashion! For instance, Pilot sunglasses are one of the most iconic and classic sunglass styles, having been around since the 1930s when they were initially used by pilots to protect their eyes from sun glare at high altitudes. With their signature larger-than-average frames, ao aviator sunglasses provide excellent coverage and protection against ultraviolet rays. These aviator glasses have a distinctive frame design with a double or triple bridge that is complimented by thin metal frames and teardrop-shaped lenses. Pilot sunglasses come in a variety of colors and finishes so you can choose a pair that suits your style. Whether for fashion or for protection, pilot sunglasses are sure to be a winning addition to your wardrobe — plus they're incredibly functional too!
Saratoga sunglasses are a modern take on the classic aviator style. These frames have a distinct look characterized by thin metal frames and teardrop lenses set atop a double or triple bridge. The modified lens shape gives these sunglasses an updated and sophisticated look that is sure to turn heads while still keeping all the benefits of the traditional aviator style, such as superior coverage from glare and UV rays. Saratoga sunglasses come in a variety of colors and finishes to suit your fashion sense, and they're lightweight enough for comfortable all-day wear, making them an easy choice for any occasion.
Don't Forget About the Type of your Activity
Summertime is the perfect time to rock a trendy pair of sunglasses. But when it comes to shielding your eyes from harmful UV rays, not all sunglass styles are created equal. The key to finding the right pair of sun protectors are deciding on what fits best for your lifestyle and level of outdoor activity. If you'll be spending lots of time outside, pilot or saratoga sunglasses are great options, given their more substantial frames and effective lenses that will help block out those harmful rays. Similarly, if you're more active outdoors, wraparound shades may be the best way to go as they provide maximum coverage because of their curved shape. Regardless of what type of sunglasses you choose, however, look for those offering 100% UVA/UVB protection to get the most bang for your summer buck!
Conclusion
Trying on sunglasses before you buy them is essential – there's no sense in spending money on a pair that don't fit right or that don't make you feel your most glamorous. There are so many different choices out there, from the classic aviator styles to modern frames made of recycled materials – so why not take some time to check out all the options? You'll get a chance to see what looks good on you as well as determine if any of the styles are uncomfortable to wear. Plus, trying out different frames can be really fun! Take an afternoon, try a few pairs on, and pick your perfect pair: they will be the stars at your next party or beach trip.
With all of these factors to consider, choosing the right pair of sunglasses can feel like a daunting task – but it doesn't have to be! If you take the time to think about what you need and want from your sunglasses, you'll be sure to find a pair that will protect your eyes and look great all summer long.
Also Read: Why People Love Mechanical Watches