Halloween is right around the corner, which means you should start making preparations now. The basic formula for throwing the perfect party, no matter the occasion, is planning. The better you plan, the better the party. In this blog, we'll discuss how to organize and promote your upcoming Halloween party. Use these tips, and your guests will remember your party for years to come.
What are the cogs that make up a great Halloween costume party? The answer isn't in the components themselves but in how willing you are to pay attention to details, i.e., how you use these components to deliver the perfect party experience for your guests. But the simple answer is you'll need costumes, decorations, food and drinks, and some things for entertainment, like a karaoke machine. Before you jump into it, you'll need a solid plan. Here's exactly what you need to do to host the perfect Halloween costume party.
Ready the Invitations
Before you do anything, you need to prepare invitations for all the guests you want to invite to the party. If it's a small number of people, you can go for printed Halloween cards. But if you're inviting dozens of people, sending out digital invitations is a good idea. It'll save you time and effort, so you can focus on making party arrangements.
We recommend using an online graphic design tool like PosterMyWall to craft your invitation cards rather than doing it from scratch. Just select a pre-built Halloween flyer template, customize the design, add warm greetings and a "You are Invited" message, and email it to your guest list. Make sure your guests RSVP back so you have a clear idea of how many people are going to attend the party.
Email your guests
Not all Halloween party invitations can be sent via social media like WhatsApp. Sometimes, you need to email them in a formal manner. For example, if you want to invite your office colleagues to the Halloween party, you'll probably go for the email option. The problem is that graphics-heavy invitations can be too large to fit in an email.
Another problem you might face is getting your invitation flyer's dimensions distorted as soon as you embed it in your email. A solution to that is attaching it as a pdf file, but that's no fun, is it? You want the flyer to pop out as soon as the guests open your email without having to read a block of text and open an attachment. That's why you should use email-friendly Halloween email templates if you're sending out invitations via email.
On to the logistics of the party
Since this is a costume party and you've informed everyone to dress up according to the Halloween theme, you don't have to worry too much about costumes. However, it's a good idea to have some spare Halloween costumes ready at the party venue in case someone's costume gets ripped open while they're squatting or if they spill too much beer on it and are dying of cold. That way, you can provide them with spare costumes and save the day.
Apart from costumes, you'll need to arrange the party venue based on the number of RSVPs you get. The venue should be big enough to accommodate everyone. Bonus points if it has a hot pool, especially if you want it to be a costume pool party. Next, you need to make an overall plan of how the party will go on. You can't just have people over and leave them to enjoy — you must have different activities planned out in a schedule. For example, a BBQ from 6 to 9 pm, a dance party with booze from 9 pm to midnight, and a karaoke party for the next 2 hours.
Make all necessary backup arrangements
If you don't have plan Bs, you're risking it. What if the karaoke machine broke down in the middle of the party? What if the party gets wild, but the booze gets short? Also, What if the power goes out in the middle of the party? To avoid all these buzzkills, you need to have backup arrangements.
That means having a spare karaoke machine ready to be brought in if anything goes wrong. Having more than enough booze so that there's no chance it'll all get finished up and having a backup power generator to keep the party rolling in case of a temporary power outage. Of course, a big part of making backup arrangements is knowing how many people are going to show up.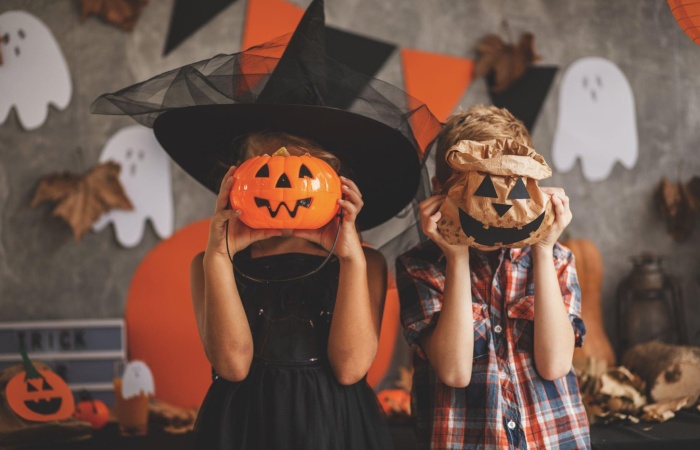 What's a Halloween party without decorations?
Having a Halloween costume party means people are going to come over wearing weird and supposedly scary costumes. You don't want them to show up to a venue with white walls and a professional desk, do you? Decorations are everything if you want to make your Halloween costume party a great success. The theme obviously is going to be Halloween, but you could specify it further. For example, a Harry Potter theme would require people to dress up with witch hats and brooms.
Once you've decided on the specific theme, you need to get lots of props, lights, ribbons, pumpkins, and scarecrows to set the stage. A Halloween party is going to be dark with dim orange lights. You could even install a smoke machine on the dance floor to add a bit of thrill to the already-dark atmosphere.
Safety is a must-have
Everything is fun and games until something goes wrong at the party. This is part of the planning process. You need to have contingency plans for every possible bad scenario, even if it's unlikely. What if someone has had too much to drink and passes out? What if someone spilled alcohol on the smoke machine, and it caught fire? Also, What if a guest needs to leave in case an emergency happens at their home, but they're too drunk to drive?
Anything bad can happen at any time, which is why you should be prepared for anything and everything, including the above-mentioned scenarios. Make sure you have a list of emergency contact numbers, like the police, fire department, and the hospital, at your fingertips so that you aren't scrambling for answers if anything bad goes down. Additionally, you should have a couple of first-aid kits at the party venue at all times. Another thing to be mindful of is food allergies when designing your party's food menu.
A final piece of advice
Some guests may not be able to make it as they can't leave their kids at home or don't want to hire a babysitter. You wouldn't want them to not attend the party, would you? That's why you should have a dedicated kids' room so that parents can leave their kids there under the supervision of a nanny on-site. It'll also allow the parents to keep regularly checking in on the kids, as the kids' room will be in close proximity to the party. It's an extra cost, but it's well worth it, and your guests will really truly appreciate it and maybe even compensate you for taking the hassle on your shoulders.