Dressing Up for a Night Out
When you want to go out and enjoy your night, chances are you want to look good and feel even better. Planning your outfit can be a challenge, especially if it involves wearing it to a place that's out of your comfort zone. Keeping certain tips in mind can help you plan the perfect guy's look for wherever you're heading.
Tip 1: Skip the Cheap Jewelry
Some cheap, fake, or poor-quality jewelry can pass at a distance for more expensive, but that's usually not the case. Also, some pieces can cause a rash or turn your skin green. Opt for jewelry like a high-quality Cuban link chain that offers style without skin issues.
Tip 2: Choose Staple Jewelry
Having jewelry staple pieces you wear on a daily basis, like men's 10k gold earrings and gold pendant chains, makes it easier to get dressed for a night out. Knowing the jewelry already looks good and complements almost everything in your closet frees up your time so you can focus on the clothing.
Tip 3: Know the Dress Code
Many places, including restaurants and bars, have a dress code you must adhere to, or you won't be able to get in. Look up the dress code beforehand so you know what to wear, so you won't be turned away at the door.

Tip 4: Understand the Environment
Whether or not the place has a dress code, it's important to understand the venue's vibe and what the guys who go there are wearing. The best way to do this is to look up pictures on social media. See what the men are wearing so that you can dress along the same lines, but put your own spin on fashion with your personal style.
Tip 5: Pair Style With Comfort
When you're trying to look attractive for your night out, you want to avoid anything that makes you feel uncomfortable. From how you walk to the way you stand, it's going to be obvious that you're not feeling your outfit and something is off. Choose a stylish, comfortable guy's outfit, even if it means you have to test it out for a few hours ahead of time.
Tip 6: Have Classic Backup Options
It helps to have classic backup clothing options that you can turn to if you need to head out quickly or can't decide what else to wear. For example, a peacoat, a button-up, and chinos; a white T-shirt and jeans; or a gray sweater with black jeans are a few outfits composed of classic, interchangeable pieces that you can wear almost anywhere.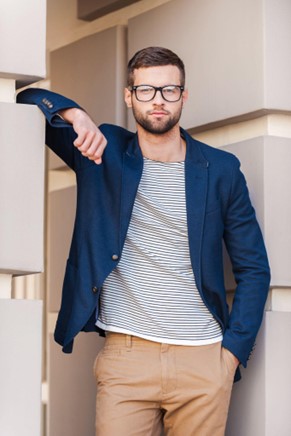 Consider stocking up if you're interested in going out more often and don't have chic basics. Even approximately 10 classic pieces could allow you to put together a multitude of outfits.
Tip 7: Get a Second Opinion
If you're worried that you might not have chosen the best outfit, ask for a second opinion from someone you trust whose style you like. Let them know where you're going, and give them an idea of what you'll have to wear. Then, show them your outfit in pictures, on video chat, or in person. Even the most stylish people don't mind asking for another person's input.
Tip 8: Evaluate Your Clothes
Don't put on anything until you look it over first. Just because you wore the pieces before doesn't mean that something hasn't happened to them since. For example, your men's button-up could have gotten a small rip in the washing machine, or the dye from your new pants could have bled onto a T-shirt. This quick inspection also gives you a chance to get rid of any wrinkles before stepping out. Taking an extra minute to evaluate what you're wearing could prevent you from looking sloppy or feeling embarrassed.
Tip 9: Break in New Shoes Beforehand
It doesn't matter whether you're wearing loafers, sneakers, boots, or another type of men's footwear, it's ideal to break them in before you wear them for a night out. If they're uncomfortable while you're out, chances are you won't be able to swap them out for another pair. Trying them on for an hour or two during the day gives you an idea of how comfortable they'll be, what type of socks you'll need to wear, and what you can do to ensure you won't get blisters. This is crucial if you're one of the many people whose feet swell at night.
Tip 10: Consider Weather Conditions
It's easy to take the "weather doesn't matter" approach, especially if you're driving to your destination, but weather conditions should influence what you wear. Let's say it's supposed to rain. That should automatically rule out sporting anything suede. If temperatures are going to drop, you won't be going out in a T-shirt and shorts, and you won't wear a sweater if the forecast calls for temperatures in the 90s.
Tip 11: Get the Fit on Point
Even the most stylish outfit will look less attractive if it doesn't fit right. Try clothes on before you buy them, or if you ordered them online, as soon as you get them, just in case you need to return them. Invest in tailoring for key pieces like jackets, chinos, and jeans.
Choosing Your Outfit for a Night Out
Plan a few days ahead for your nights out. Take some time at the start of each week to pick out what you're going to wear each day and evening. It might seem like a waste of time and energy, but taking this extra step will eliminate the stress and hassle of pulling together a look at the last minute.