Athleisure style can most simply be defined as athletic-inspired clothing that is both comfortable and fashionable. However, athleisure can execute properly in a number of ways. You might choose a pair of fun leggings and cute sneakers paired with your favorite leather jacket and sunglasses or even black bike shorts with an oversized blazer for a more elevated look. The bottom line is that athleisure can be worn in so many ways depending on your personal style and, as seen by this growing trend over the past few years, it's not going anywhere anytime soon. If you're new to this style and don't know where to start or are in need of some inspiration, here's a look at how you can curate an athleisure look and totally rock it while still looking put together.
Bring Out the Best:
While athleisure allows you to bring comfort and practicality into your everyday outfits, it can tend to look sloppy or undone if not done correctly. Furthermore, athleisure isn't necessarily appropriate for every occasion. When trying out this trends, it's important to keep in mind that athleisure is best worn in casual, everyday settings like running errands, shopping, casual lunch dates or avoiding a full outfit change after a workout. Athleisure is also all about elevating and bringing your personal style to a casual, comfortable look.
Because this particular style allows you to be creative and accessorize, it's important to utilize your best athletic and workout-inspired pieces. Even if you love your favorite ratty leggings with the holes in them, save those for a home workout. Athleisure calls for your best leggings, shiniest sneakers and cutest graphic t-shirts. This way, your outfit will look cohesive if you choose to add nicer pieces into the mix.
Balance It Out:
One of the most important ideas to keep in mind when creating an athleisure outfit is to keep things balanced. You don't want to look like you just stepped out of the gym, but on the other hand, you also don't want to add sneakers to a cocktail dress. Think about which pieces in your closet might look good together, like a motorcycle jacket with a casual tank, cute leggings and high top sneakers. You might also pair a fun pair of sneaker wedges with metallic leggings and an oversized top for maximum comfort while still looking like you took the time to plan a cute outfit. You'll be amazed at how many items in your closet can be utilized for an athleisure look!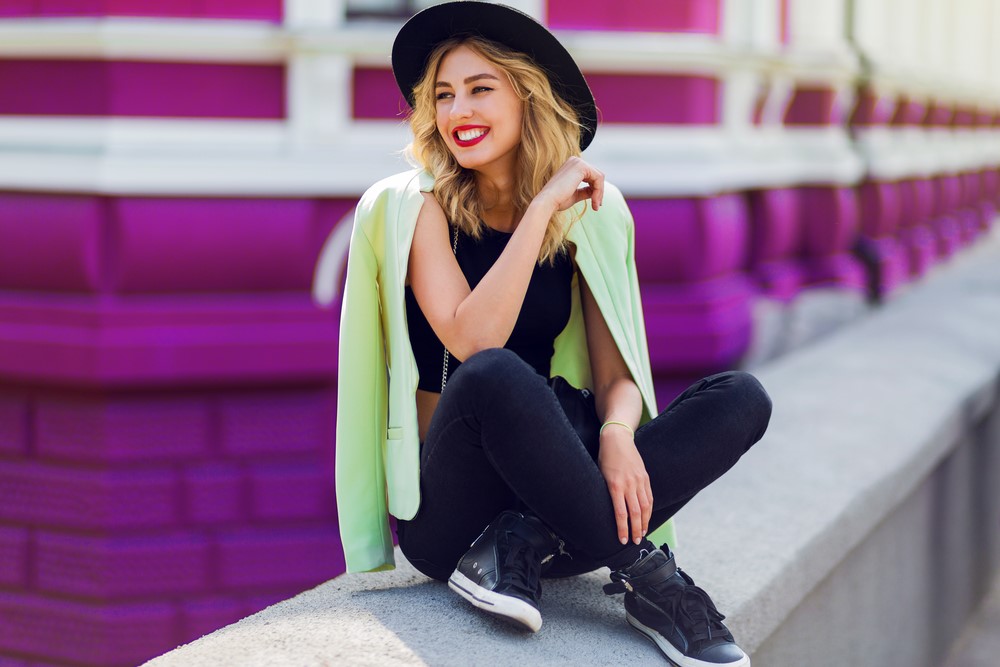 Fashion over Function:
Another core element of athleisure is that style choices trump, well, just about everything. While this style is widely popular for being comfortable, it's also big on making fun fashion choices. Here's your chance to flaunt your favorite athletic or workout-inspired pieces that might not be the best for actually exercising. You might think about donning a pair of sleek leather leggings with a pair of combat boots, a classic white t-shirt with a denim jacket and a cute baseball cap to finish things off. While this outfit might not be great for the gym, it's certainly a great option for athleisure purposes.
Mix Styles and Fabrics:
While balance is a key factor in obtaining the perfect athleisure look. It's also important to mix things up so as not to look like you're leaning towards one side too much. It's easy and fun to interchange pieces for a different athleisure look every time! For materials that lend more to the athletic and loungewear side, choose soft, stretchy and breathable materials like jersey, knits, sweats, cotton, mesh, spandex, polyester blends and the like. Pair these fabrics with more structured pieces made from textiles like suede, leather, denim and other sturdy pieces that hold shape and elevate the look. Mixing one or two styles and materials from each of these categories will create a seamless and effortless athleisure look for any season.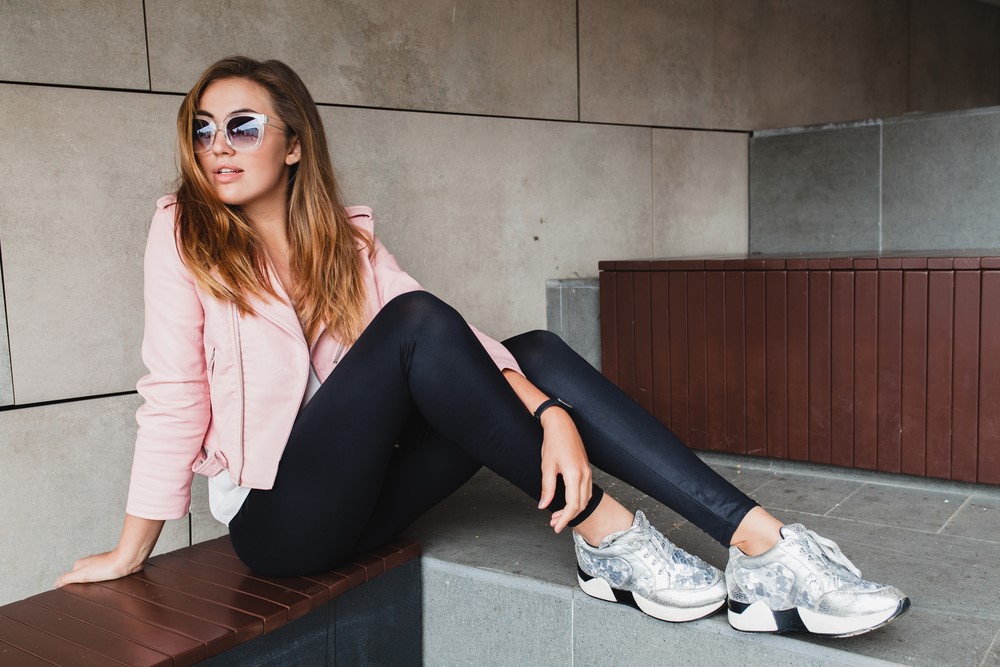 Accessories Encouraged:
Accessorizing is a rite of passage within the athleisure world! Some of the best and boldest athleisure looks are fully accessorized from head to toe. From jewelry and bags to belts and everything in between, women's accessories are a fun and easy way to step up your athleisure game.
In terms of jewelry, anything goes when it comes to athleisure. If you are curating a look that is focused more on bright colors and fun prints. Let your accessories be your guide. Big statement earrings, as well as chunky necklaces or bangles in bright colors. Can bring the heat for a show-stopping athleisure outfit. The same goes for bags, belts, and even shoes. If your look is loud, try out a pair of colourful sneakers or add some neon laces for a funky touch. Finish things off with a complimentary bag to tie your look together.
On the other hand, some like to bring sultry or business-like vibes into the athleisure trend. To get this look, opt for neutrals, plaids, and darker colors in general. Hints of mesh and lace add a sexy vibe that will make you feel super confident. Even if it's just a little addition like a belt, scrunchie, headband or choker. Silver, gold, and black jewelry will always do the trick in keeping things elevated. Even when it comes to an athleisure look. When adding a bag, focus on nicer materials like leather and velvet instead of canvas or nylon.
Make It Yours:
Athleisure is gaining popularity and could most likely be around for a while. Like any style or trend, though, you can and should always add your own personal touch. Make athleisure authentic to your personal style by wearing what makes you most confident. Utilize your favorite Ethical Clothing brands, styles. And cuts to join in on the athleisure fun while remaining confident and true to your personal style.