If your wedding day is on the horizon, then your to-do list is probably full of notes about venues, caterers, and florists. But have you started thinking about your wedding day look yet? It's never too early to get started on your wedding day beauty regimen — in fact, the earlier, the better. Here are 10 things to do to help prep your skin, hair, and nails for your wedding day:
See a dermatologist early.
Ideally, you should see a dermatologist as soon as you get engaged and set a wedding date. The sooner you see them, the more lead time you will have to make changes to your beauty regimen and get the results you are seeking. A new 3-step skincare routine and in-office treatments can take weeks or months to work, so you want to visit the dermatologist ASAP if this is on your wedding to-do list.
Book treatments ahead of time.
Certain treatments, such as laser hair removal and injectables, require multiple appointments spread out over many months. During your initial consultation, your dermatologist will be able to discuss the timeline with you and how many treatments you'll need. Go ahead and book them before you leave the office if at all possible. Dermatologists' and aestheticians' schedules fill up fast, so if you wait then they might get booked up.
Think ahead to your hair.
We know it seems like a long time off, but it's never too early to think about how you might want to style your hair on your wedding day. If you think you might want to grow it out, start that process ASAP to get as much length as possible. If you want to test out a new hair color, do it now so that you can course correct before the wedding if you don't like it.
Consider taking beauty vitamins.
Certain vitamins and supplements can encourage skin, hair, and nail health — but they take time to work. If you are interested in taking beauty vitamins before your big day, you should also start those as soon as possible so that you can get the greatest effects. This will also give you a change to ensure that the vitamins won't upset your stomach or cause any other side effects.
Start using a retinol.
If you aren't already, now is the time to start using topical retinol or retinoid products. Retinols encourage skin cell turnover and can address many skin problems, including acne, hyperpigmentation, uneven texture, and fine lines and wrinkles. However, many people take weeks or even months to adjust to retinol, and you might experience redness or peeling as you adjust. Start using a retinol as soon as possible to ensure that you're well-adjusted to it before your wedding day.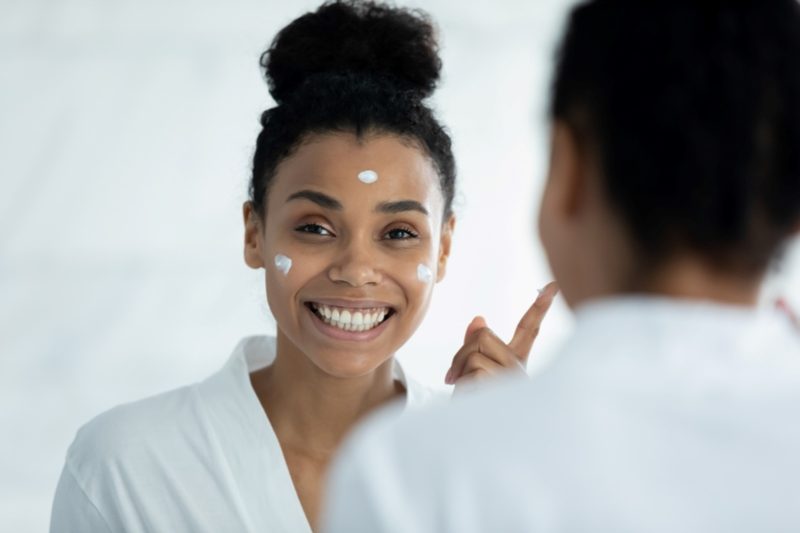 Apply sunscreen every day.
You should be wearing an anti-aging sunscreen every day anyway, but it's especially crucial in the time period leading up to your wedding. UV radiation from the sun can lead to sunburn, puffiness, swelling, fine lines, wrinkles, dryness, flaky patches, age spots, and more. Choose sunscreen with a protection of at least SPF 30 and apply it every single day to all of your exposed skin.
Visit a dentist.
If you want whiter, brighter teeth on your wedding day, then it's a good idea to visit your dentist at least six months out. They will clean your teeth and can perform in-office whitening treatments to brighten up your smile. Afterward, you should skip dark, acidic beverages such as coffee, tea, and red wine or at least drink them through a straw so they can't re-stain your teeth. You might also need to do some at-home whitening treatments to maintain your smile; just be sure to stop them a little bit before the wedding if they make your teeth sensitive.
Schedule a makeup trial.
If you are planning to get your makeup professional done, start looking for makeup artists in your area and book a trial about three to six months in advance. If you don't know exactly what you want, the makeup artist can talk with you about options and practice some different looks to help you figure out what makes you the most confident. Be sure to coordinate with your hair and outfit so that the whole look comes together.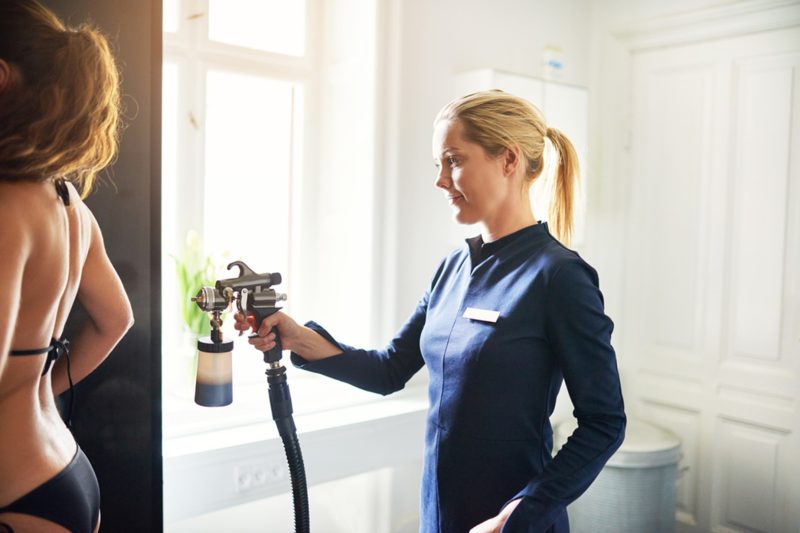 Do a spray tan test.
If you want a bronze glow on your wedding day, we recommend skipping a suntan and tanning booth, which both expose you to UV radiation. Instead, get a spray tan at a salon or do it yourself at home with self-tanning products. Go ahead and test out your tan right away so that you can confirm it doesn't turn you orange or make your skin look unnaturally dark. After all, you don't want to have to do an emergency exfoliation the night before your wedding!
Don't start new treatments too late.
Many people like to update their skincare regimen in the leadup to their wedding, which is awesome. However, you should avoid trying out new products for at least a month before the ceremony. This will prevent any potential irritation from occurring and give you the best changes of a smooth, bright complexion on the big day. If you're going on a honeymoon, go ahead and get your skincare travel kit ready with all your tried-and-true products so you don't have to worry about that either.
What other beauty to-do items do you wish you had done before your wedding day? If you haven't gotten married yet, are you doing anything else to prep your skin, hair, and nails for the big day? Let us know in the comments below!